THE GOOD, THE BAD & THE GLORY (Itchfunding Now!)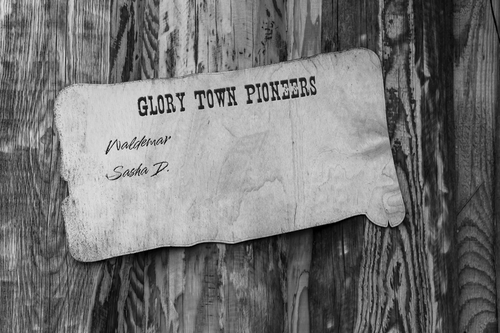 Whoa Gunfighters, has it been a heck of a month!
We almost reached 50% funding for that there first milestone—thanks again to everyone who supported the project thus far! Especially to our Glory Town Pioneers, there's a plaque on the wall of the Glory Town Hall of Fame with your names on it as sign of our appreciation—with room for more!
For them that been thinking about buying their own copy but ain't yet, now's a great time to help keep that stream train rolling and get us to that milestone where we can see some Community Copies coming available.
If anyone just wants to help some: a tweet, a like or a review, would be mighty appreciated!
Playtesting
THE GOOD, THE BAD & THE GLORY was playtested and well-received at both the Gauntlet Community Online Gaming event & Go Play Northwest! Fun was had by all and folks was eager to continue their journeys along the Bloody River.
We is also two sessions into a four-shot campaign on the Gauntlet, which is going great guns. The Claymore Gang's on the run from "The Prophet" ( 217) and his gang of vigilantes: Father Jedediah Sweet aka "The Deacon (112), Hank "Windy" McBride (85) . George "Rattlesnake" McCoy (72), Silas West and "Red" Jenny—they already found poor Abigail.
We got ourselves some recordings and we'll share 'em too, just as soon as we done any necessary editing—so keep an eye or 'n ear out!
Updates
THE GOOD THE BAD & THE GLORY Ashcan Edition Early-access PDF is up to version 1.01, with another updated expected in the next two weeks. THE GOOD THE BAD & THE GLORY Posse Poster Roster & Ledger PDF seen a minor change too.
As a result of all them online playtests, the Gunfighter Keeper & Play Aid (both singles & all_in_one) Google Sheets has been fixed and updated! Despite Google's best attempts to lead us astray with them font changings.
Feedback
We'd love to hear some more feedback, so please don't hesitate to leave a rating or comment in the Glory Town community here on itch.io. Elsewise, you's always welcome to email us at support@v2sgames.com with any reviews, encouragements or comments.
Thanking y'all kindly and wishing y'all a good day,
Jonathan @ V2S Games
Get THE GOOD, THE BAD & THE GLORY (Itchfunding Now!)